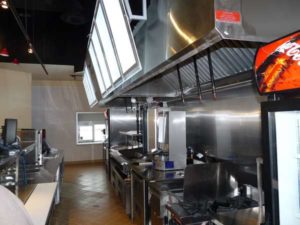 The restaurants exhaust hoods and fans are the part of the commercial cooking exhaust system that maintains a smoke free and fresh environment in your kitchen. There are three things that are constant in a commercial system which are heat, smoke and grease vapors. Without a proper exhaust and ventilation system, the kitchen would always be sooty, smoky and uncomfortably hot. It could affect the operation of some of the appliances in the kitchen like the fridge and gas burners. It could also contribute to the spoilage of food in the kitchen.
For safety and compliance purposes, all restaurants must have exhaust hoods. These are installed in the kitchen directly over the cooking appliances where smoke rises up into the exhaust system. The exhaust system removes the smoke and grease vapor while the make up air system brings in fresh air into the kitchen.
Exhaust canopies or hoods are an integral part of the exhaust system. This canopy is the capture area for all the emissions from the appliances. The hood is designed to capture all of the greasy smoke and grease laden vapors from the burners. The design and positioning of the hood will also depend on the kind of cooking that you do, whether it is light, medium or heavy cooking.
Variations of these hoods include wall mounted exhaust canopies, island canopies, back shelf canopies, etc.
You can either have a type I hood or type II hood. The difference between a type I and type II hood is that a type I have a liquid-tight welded construction for grease extraction applications, whereas the type II are not built to same stringent standards, and are designed to be used in heat or steam removal applications such as convection ovens, pizza ovens or dish washers.
The 16 Gauge welded duct work is another component of the exhaust system. The duct is basically the pipe that connects the hood to the exhaust fan. The exhaust fan expels the smoke and greasy vapor to the outside on top of the roof of the building.
We are offering a variety of highly efficient exhaust vent hoods from reputable manufacturers. We have a team of installation experts who will install these exhaust hoods into your kitchen. When it comes to installation of restaurant range hoods, effective design and proper installation by knowledgeable technicians is necessary in order for the hood vent to function properly.
Other considerations to be made in installation of the hood include safety factors and compliance requirements.  Safety factors are considered since there are huge fire hazards in a commercial kitchen and therefore the exhaust hoods due to primarily grease buildup in the hood and exhaust duct . Our installation team is well aware of compliance requirements by local authorities and every installation is made ready to pass any inspection tests. Regular maintenance is also necessary in order to maintain certification for compliance.
.