Restaurant Kitchen Exhaust Hoods, and Exhaust Fans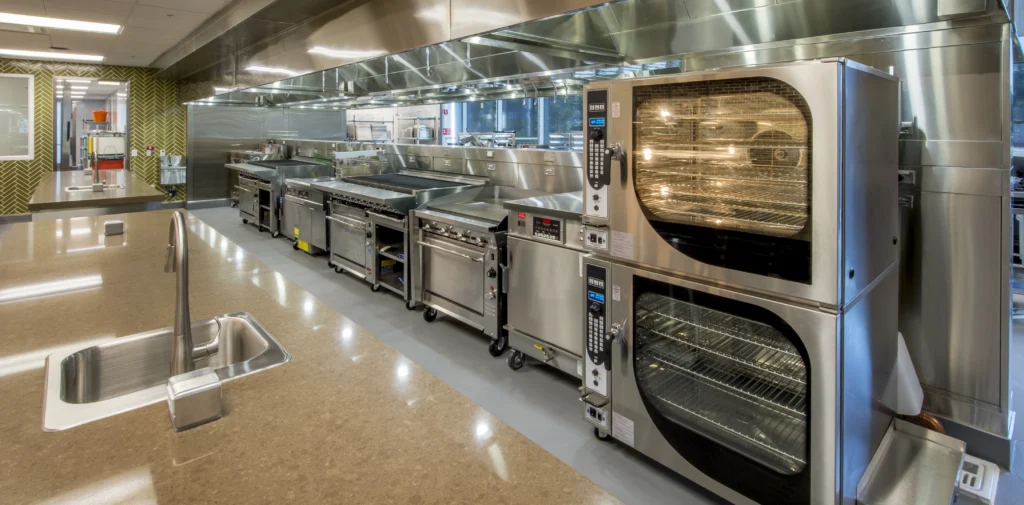 The Exhaust and Make up Air systems are very important part of a commercial kitchen. The Exhaust System is the part of the ventilation that deals in the removal and/or treatment of air form the kitchen. Commercial kitchens have a high output of smoke, odors and grease. Considering the amount of food that is being prepared at any one time, you need restaurant exhaust hoods, exhaust fans and make up air to keep your kitchen smoke and odor free. There is also a great amount of residual heat that the exhaust fans remove.
We offer a range of commercial cooking exhaust systems which we can install in your commercial kitchen. Restaurant ventilation is not just a matter of initiative but also a requirement by legislation in order to operate such a cooking facility. Installing a Commercial Cooking Exhaust System will ensure that you are in compliance with regulations regarding the building and design code of commercial cooking.
So how can you meet compliance, cost and efficiency at the same time? Our components are fabricated from stainless steel in a variety of sizes depending on the particular requirements of your commercial kitchen. We offer commercial cooking exhaust systems, and exhaust fans for your cooking facility.
There are three main components of a restaurant ventilation system, the exhaust hood, and the exhaust fan which work together to keep your kitchen smoke and grease free. The cooking vapors are grease laden and need to be exhausted in a manner in accordance with NFPA 96 and other local building codes in effect.
Commercial cooking exhaust systems work by removing and expelling outside these grease laden vapors and smoke. The exhaust system has three different components that enable it to do this. There is the exhaust hood, the exhaust duct work and the exhaust fan typically installed on the roof.
There are many players that are usually involved in the installation of commercial cooking ventilation systems. We work with a number of mechanical engineers who can take care of the design drawings and if required can help with the building permit application.
Other important players involved in the process of designing a restaurant may include architects, engineers and designers.
The commercial cooking ventilation systems that we install are sourced by reputable manufacturers well known and established in this industry. Maintenance of the system is essential for long durability and efficiency after installation. Through experience in installing these restaurant hoods, fans and make up air systems, we are able to offer quality service and maintenance that will ensure your equipment will serve you for many years.
You can request a quote with information about the size of your commercial kitchen and the type of the ventilation system you want. You are guaranteed to get a great job done at a very reasonable price.